Approaching A Drunk Driver After An Accident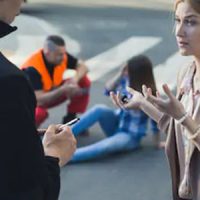 When someone takes alcohol, their brain's function reduces, and their thinking, reasoning, and muscle coordination become impaired. All these abilities are crucial to operating a vehicle safely. Unfortunately, drunk driving is quite common in the United States of America, which means that drunk driving crashes are common in the U.S. It is estimated that more than 35 people die in drunk driving crashes daily. The NHTSA estimates that in 2021 alone, more than 13,300 people were killed in drunk driving-related accidents. If a drunk driving accident does not result in death, high chances are, it will result in severe injuries.
It is crucial that victims of drunk driving crashes know about their legal rights. After a drunk driving accident, you have the legal right to file a compensation claim against the drunk driver and recover compensation for your injuries and damages. However, to ensure you recover the compensation you deserve, there are certain steps you must take after your accident. One of these steps is gathering information from the drunk driver. So how do you approach a drunk driver after a crash and ask them for the information you need, such as their insurance, contact, and driver's license information? The following are some tips on approaching a drunk driver after a collision.
Tip #1: Assess the Situation
It is crucial that after a drunk driving crash, you exercise extreme caution because of the potential danger from the drunk driver. If you suspect the other driver is intoxicated, take a minute before exiting your vehicle and approaching them. Wait to see how the driver acts. Some drunk drivers are aggressive. If you get out of your car before assessing the situation, it may result in further altercations.
If it is unsafe for you to approach the driver, ensure you document the license plate number. Even if you don't get any other information from the driver, the license plate number may be enough to help you begin the compensation claim process.
Tip #2: Act Fast
While you need to assess the situation before acting, it is crucial that you act fast. If you don't act fast, the drunk driver might flee the scene before you have had a chance to gather any information.
Tip #3: Call 911
After a drunk driving crash, ensure you contact the police immediately. If the drunk driver is aggressive, making it hard for you to gather information from them, a police officer can help. Apart from providing you with the other driver's information, the police report can provide additional helpful information, such as the results of a breathalyzer or field sobriety test, which you can use as evidence in your compensation claim.
Tip #4: Limit Your Conversations
If you get to speak with the drunk driver that hit you, it is best that you limit your conversations. Get the information you need, take note of the driver's condition, and collect any other necessary evidence, but do not discuss details of the accident with the drunk driver. If, for example, you start accusing the other driver of being intoxicated and causing the accident, it might heighten aggression.
Contact the Gus Anastopoulo Law Firm
Our qualified Charleston drunk driver accident lawyer at the Gus Anastopoulo Law Firm can help you if you have been in a drunk driving crash. Contact us today to schedule a consultation and discuss your case.
Source:
nhtsa.gov/risky-driving/drunk-driving#:~:text=ALCOHOL%2DIMPAIRED%20DRIVING-,A,coordination.%20All%20these%20abilities%20are%20essential%20to%20operating%20a%20vehicle%20safely.,-As%20alcohol%20levels