Charleston Construction Zone Accidents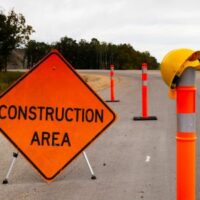 South Carolina boasts large highways and cobblestone streets, but one thing that both have in common is frequent construction. Construction zones can be difficult and dangerous for drivers to navigate, creating countless hazards from confusing traffic patterns, flashing lights and distracting equipment and activity, and unexpected pedestrians. For this reason it may not be surprising that a high number of vehicle collisions and car accidents in South Carolina, and nationwide, occur in road construction zones. If you or a loved one have been injured in a construction zone car accident in South Carolina, you may have legal options available to you so that you can recover for the harm that you have suffered and get on with your life.
Construction Zone Accidents Are Often Fatal
Construction zone accidents are often fatal, both for the construction workers in them and the drivers and passengers traveling through them. While construction workers are obviously more vulnerable to injury, you may be surprised to know that over 1,000 drivers and passengers are killed in construction zone vehicle accidents each year, a number that has been increasing since 2015, according to the CDC. Construction zones are often unavoidable when you are driving, but they can pose serious and even life-threatening dangers to drivers. If you have been in a construction zone accident that was not your fault, an experienced Charleston personal injury attorney can review the facts of your case to identify all liable parties and hold them financially accountable for the harm that they have caused.
Have You Lost a Loved One in a Construction Zone Accident?
If someone close to you, such as your spouse or an immediate family member, was killed in a construction zone accident due to the negligence of another driver, the state, or the construction company, you can bring a wrongful death suit to recover for their loss. A wrongful death suit is essentially the same as a personal injury lawsuit, except that because the victim is not alive to assert their own personal injury claim, you can assert a wrongful death claim on their behalf. These claims entitle you to all financial damages stemming from the crash, such as medical care, funeral expenses, loss of financial support, loss of companionship, and loss of consortium. Additional damages may also be available, such as to compensate for the physical and emotional trauma that the victim suffered as a result of the accident. Because many factors can impact the calculation of damages, the best way to get an accurate estimate is to consult with an experienced attorney who can take all the facts of your case into consideration.
Contact the Gus Anastopoulo Law Firm Today
If you have been injured or lost a loved one due to negligent driving or operation of a South Carolina construction zone, the Gus Anastopoulo Law Firm can help. Charleston car wreck lawyer Gus Anastopoulo will help you hold all liable parties accountable and get the financial compensation that you are entitled to.
Resource:
cdc.gov/niosh/topics/highwayworkzones/default.html