Determining Liability For Summertime Pool Injuries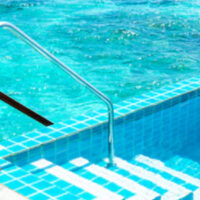 The weather is getting warmer and people are starting to open their pools for the summer. With pools come good times, relaxing weekends, and an abundance of possible injuries. So before you pop the top of your pool, it's probably a good idea to make sure you understand what your legal duties are to guests and trespassers, so that you can take all necessary precautions. Even if it's impossible to avoid all accidents, by taking the appropriate precautions it is likely possible to insulate yourself from liability.
Slip-and-Fall Accidents
If someone slips at your pool and is injured, the determination of liability will depend in part on whether that person was invited to be there, and whether you were negligent in creating or failing to warn about potentially hazardous conditions. In assessing your negligence, the court may consider whether you posted signs, or gave written or verbal warnings about the slippery area, and whether you had taken any precautions, such as putting down mats or asking people to wear shoes by the pool, in order to mitigate the risk of a known hazard. Additionally, you can be held liable for negligence if you have over-served alcohol to guests, or failed to monitor their alcohol consumption while swimming or using your pool area, if their intoxication then leads or contributes to an injury. 
Trespassers
Interestingly, even if you have not invited or allowed people to use your pool, you may still be held liable for injuries sustained by a trespasser, even while you were not home or were unaware of their usage. Posting a sign telling people to swim at their own risk is rarely sufficient to guard against liability in these instances, if other forms of negligence are present.
Attractive Nuisance
The Doctrine of Attractive Nuisance applies when something is dangerous, but also known to be attractive to small children. For instance, swimming pools are considered an attractive nuisance, because even though we understand that they are dangerous for children, we must also accept it as a fact that children will be drawn to them and attempt to use them, we cannot rely on small children to understand and adhere to property laws more than they are excited by the idea of swimming in a large and enticing pools. For this reason, the burden lies on the pool owner to guard against this possibility. If a pool-owner installs an ornamental fence around their pool that is ineffective in keeping children out, fails to cover their pool, installs a water slide, or in any other way makes their pool both enticing and accessible, and a child is injured or killed as a result, the pool owner is still held liable for the injury or death, even if they were not home and were unaware of the child's use of their pool. Note that trespass and warning signs will be particularly ineffective in negating liability in these cases, as it is generally understood that small children cannot read and comprehend such warnings.
Talk to a Charleston Personal Injury Lawyer
If you, your child, or a loved one have been injured at a pool due to someone else's recklessness or negligence, Charleston personal injury lawyer at the Gus Anastopoulo Law Firm can help you get the compensation that you are entitled to. Call today to schedule your free consultation.