Moped Accidents On The Rise In South Carolina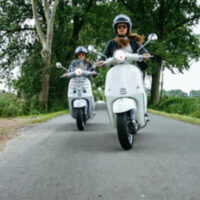 South Carolina is beautiful, coastal, and boasts a gorgeous climate, so it's no surprise that it's a popular tourist destination. As tourism has increased in Charleston and other popular cities across the state, so too has the use of mopeds and electronic scooters. Mopeds are a convenient way for people to get around, can be easily rented, and require no insurance to operate. While they are convenient, though, they are also dangerous, particularly when driven by inexperienced or intoxicated drivers. Those riding mopeds are also particularly vulnerable, as they have even less protection typically than even motorcyclists. Additionally, although they occupy a grey area between pedestrians and bikes, they are required to travel with traffic, which can place everyone on the road at risk. As moped usage continues to increase, so too have accidents and fatalities involving them.
Were You Injured By a Moped?
If you are a driver or pedestrian who was injured in an accident due to a negligent moped driver, you may have legal options available to you to recover for the harm suffered. Depending on the insurance status of both you and the moped driver though, you may end up navigating some fairly complex and potentially devastating financial issues. South Carolina laws do not require moped drivers to carry insurance coverage, so it's possible that the liable moped driver will be uninsured. When this happens, you can be left with hundreds of thousands of dollars in hospital bills, and no financial accountability from the actual liable party. For this reason, if you have been injured in a moped accident in Charleston, it's critical to talk to an experienced South Carolina personal injury lawyer as soon as possible.
Were You Injured While Riding a Moped?
Injuries suffered by moped riders can be extremely serious due to the lack of protection and the potential for catastrophic accidents. The majority of moped accidents happen because a vehicle driver did not see the moped driver. This is one of the most significant risks of having to ride with traffic. Many moped drivers are tourists unfamiliar with the area and driving signals who may also be intoxicated. This puts all drivers on the road at risk. Distracted driving among vehicle drivers also increases the risk of colliding with a moped. If you were injured while riding a moped due to another driver's negligence or recklessness, you can bring a personal injury claim to recover for the damage it has caused. Because moped drivers can be so seriously injured, it's important to determine the insurance status of the liable party as well as any excess coverage, umbrella policies, or uninsured motorist policies they may have. In the meantime, make sure all of your medical care is billed to your health insurance. Bill your health insurance even if the healthcare offers you an alternative, such as billing your settlement, and understand that such tactics are generally predatory.
Talk to a Charleston Personal Injury Attorney
If you have been injured in a moped accident, the Gus Anastopoulo Law Firm can help. Call today to schedule a consultation with our Charleston moped accident attorney.
Resource:
wpde.com/news/local/lifelong-injuries-and-200k-bills-from-crash-that-wasnt-his-fault-due-to-sc-moped-laws