Slip-And-Fall Accidents Leading Cause Of Traumatic Brain Injuries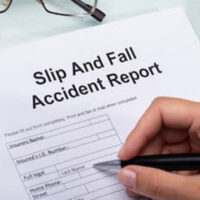 It's summertime, and with all the fun that comes with pool visits and slip-and-slides, so too does an increase in the risk of slip-and-fall accidents. While many people may think slips and falls are inevitable, particularly during the summer months, most slip-and-fall accidents are 100% preventable. Further, there is even more reason to ensure that properties are well maintained and that slip-and-fall hazards are promptly addressed. According to new data from the CDC, slip-and-fall accidents are the #1 cause of traumatic brain injuries.
Traumatic Brain Injuries
Traumatic brain injuries occur when there is a disruption of normal brain activity due to a severe bump, jolt, or blunt force trauma to the head. As you can imagine, slipping and hitting your head on a hard surface absolutely meets this criteria. Traumatic brain injuries are often accompanied by a period of unconsciousness, confusion, or cognitive impairment, such as dizziness or confusion. These side-effects dramatically increase the risk of further injury or death when they occur near a pool or body of water, as they can result in accidental drowning. For this reason, it is especially critical to take precautions to mitigate poolside hazards, such as slippery surfaces, by keeping the ground mopped, adding traction mats, and ensuring that the pool is supervised if you have company. It's also important to walk slowly near pool areas and ensure that children (and adults) do not run by the pool. Requiring flip-flops and shoes also increases traction and can help to mitigate these risks.
Consequences of Traumatic Brain Injuries
Traumatic brain injuries have short-term and long-term side-effects and can have a lasting impact on someone's overall quality of life. Traumatic brain injuries can cause memory loss, both of the events leading up to the accident and on-going short-term memory loss. They can also cause severe pain, migraines, visual distortions (such as auras), sensitivity to light, vertigo, a loss of balance, and extreme fatigue. Some people who suffer traumatic brain injuries experience changes in their personality and mental health, for instance, becoming much more irritable, and developing depression or anxiety. In other words, this kind of injury can have serious and long-term repercussions and can significantly impact an individual's quality of life.
Suing for a Traumatic Brain Injury
Suffering a traumatic brain injury can be a life-altering and traumatic experience. It can be particularly hard to accept when it only occurred due to someone else's negligence. Bringing a personal injury lawsuit for a traumatic brain injury allows you to recover all costs related to the treatment of your injury (including future treatments) as well as any money that was lost as a result of not being able to work or not being able to return to the same kind of job. Additionally, you can pursue pain and suffering for the physical and emotional trauma suffered as a result of the accident.
Contact Gus Anastopoulo Law Firm
If you've suffered a serious injury as a result of a slip-and-fall accident, contact the Gus Anastopoulo Law Firm today and schedule a free consultation to find out how our Charleston personal injury lawyer can help you get the compensation that you are entitled to.
Resource:
cdc.gov/homeandrecreationalsafety/falls/adultfalls.html