Suing For South Carolina Dump Truck Accident Injuries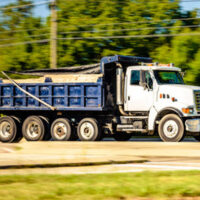 You may not think much of dump trucks as you drive about and carry on with your daily errands, but these 12-15 ton machines can cause more damage than you may have been aware of. Dump truck accidents and collisions involving dump trucks or garbage trucks are becoming increasingly common on South Carolina highways. Standard passenger vehicles are especially vulnerable to such large, heavy vehicles. Drivers and passengers in standard passenger vehicles are the most likely to suffer serious and even fatal injuries in collisions with garbage trucks, and the medical costs and physical damage can be catastrophic. If you have been injured in a dump truck accident, you may have legal avenues available for you to recover financially for the harm that you have suffered.
Bringing a Personal Injury Lawsuit for a Dump Truck Accident Injury
If you have suffered an injury as a result of a collision or accident with a dump or garbage truck that was not your fault, you may be able to bring a personal injury lawsuit to recover damages you suffered in the crash. In order to have standing to bring a successful lawsuit you must be able to show that you suffered physical harm which can be backed up by financial loss. For instance, medical bills, treatment expenses, and lost wages, are all forms of financial harm caused in car accidents. Additionally, you must be able to show that the other driver was negligent in causing the accident and that their negligence directly caused your harm. If you are unclear on what this means or if you have a strong case, the best thing that you can do is talk to an experienced South Carolina dump truck accident attorney so that they can review the facts of your case and determine the best course of action for collecting compensation.
Establishing Negligence in a Dump Truck Accident
In order to bring a successful personal injury lawsuit, you must be able to show that the other party was negligent in causing your injuries. Sometimes negligence is harder to prove than others, but an experienced personal injury attorney will always know how to get the necessary information. In some cases, negligence is assumed. This is known as negligence per se, and is assumed whenever the other driver is breaking traffic laws, such as by speeding or driving under the influence of drugs or alcohol. For this reason, if you believe the other driver was speeding or is intoxicated, be sure to tell officers when they arrive at the scene and collect the names of anyone who may have witnessed the accident.
Talk to the Gus Anastopoulo Law Firm
If you have been seriously injured as a result of a dump truck accident that was not your fault, the Charleston truck accident lawyer at the Gus Anastopoulo Law Firm will hold all liable parties accountable and make sure that you get the maximum settlement that you are entitled to. Contact the Gus Anastopoulo Law Firm today to schedule a consultation.
Resource:
live5news.com/2021/12/16/coroner-identifies-man-killed-ravenel-after-dump-truck-overturns