Were You Injured In A Side-Impact Collision?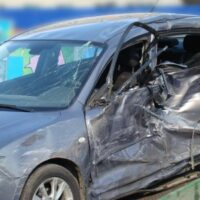 A T-bone accident is nightmare-fuel for most people. These accidents, also known as side-impact collisions, often happen when one driver runs a red light or ignores a stop sign at an intersection, hitting another car in the side. Cars are particularly vulnerable on the sides because they do not have the same amount of buffer as the front and rear of vehicles. For this reason, side-impact collisions can be particularly fatal. In fact, it is estimated that a whopping 23% of all fatal car accidents are T-bone accidents. This number is even higher when the impacting car is a larger size than the impacted car. For instance, if a truck or SUV were to hit the side of a standard sedan, the truck or SUV's bumper would likely hit at the same height as the vehicle occupant's head. This makes fatality or debilitating injury far more likely. People who survive these collisions often have severe medical problems that require extensive care. It is estimated that a severe head injury caused by a side-impact collision can result in up to $800,000 in damages. For most people, this is an impossible amount of money to pay for the care that they need. Luckily, a personal injury lawsuit gives victims of these kinds of accidents a legal mechanism for recovering financially for their harm.
Determining Negligence in a Side-Impact Collision
In a side-impact collision, the negligent party is often the one who is determined not to have had the right of way when the accident occurred. For instance, if one party was driving through a green light, they would have the right of way. If another driver then ran a red light and hit them, the driver that ran the red light would be found liable for having caused the accident. Of course, accidents are not always this clear cut. If the lights were malfunctioning or out of order or a stop sign was missing or not visible from the road creating the impression for both drivers that they had the right of way, there may be other liable parties, such as the departments responsible for maintaining roadway signs in that area. Liability is generally determined by the insurance company soon after the accident. Once liability has been determined (assuming you were not found liable) you can bring a lawsuit against the liable party if you can show that they were negligent in causing the accident. Negligence is presumed where a driver ran a red light, ignored a stop sign, was speeding, or was violating the law in any way. If you were injured in the accident and incurred financial damages such as medical bills and lost wages as a result, you have standing to bring a personal injury lawsuit. This will allow you to recover for all economic damages as well as for pain and suffering.
Contact the Gus Anastopoulo Law Firm in Charleston, South Carolina
If you have been injured in a car accident due to another driver's negligence, you do not have to fight this battle alone. The Charleston car accident lawyers at the Gus Anastopoulo Law Firm are ready to zealously advocate on your behalf and ensure that you get the settlement you are entitled to. Contact us today to schedule your consultation.
Resources:
geico.com/living/driving/auto/car-safety-insurance/common-collisions/
iihs.org/topics/fatality-statistics/detail/passenger-vehicle-occupants