Common Injuries From Dog Bites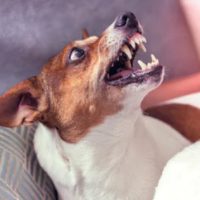 According to the CDC, approximately 38% of households in America have one or more dogs. Dogs can have many positive effects on the lives of people. But dogs can also bite. According to the CDC, more than 4.5 million people are bitten by dogs every year in America, and almost 800,000 receive medical attention for dog bites.
Many people wrongly assume that dog bites only result in minor injuries. Dog bite injuries range from minor injuries to life-altering injuries. Many dog-bite victims sustain severe injuries. This article discusses some of the most common severe injuries victims of dog bites sustain.
Puncture Wounds
A puncture wound is a wound that breaks through the skin and enters the body. When a dog's teeth break a victim's skin, the victim can sustain a puncture wound. Puncture wounds don't always bleed as much, and sometimes people think they don't require medical treatment. But the reality is that even a puncture wound that does not bleed as much can be serious.
Scarring
A dog bite can leave someone with permanent scarring. For example, a dog bite can result in facial scarring. Usually, children are at a higher risk of sustaining facial scarring than adults because they are physically closer to dogs. Unfortunately, scarring is not only painful. It can also cause embarrassment to the victim, which can result in psychological trauma.
Broken Bones
Dogs' strong, powerful jaw muscles can cause broken bones or fractures. Some broken bones that people sustain after being bitten by a dog include;
Skull fractures
Broken nose
Broken ribs
Broken arm, wrist, or hand
Broken face bones
Hip fractures
Nerve Damage
Nerve damage can occur if the dog bite is deep. A dog bite can cause nerve damage to a victim's legs, arms, face, hands, or other parts of their body. If a person suffers nerve damage, they might not be able to do the same work they were doing before the dog bite. A nerve injury can interfere with a person's ability to perform the daily tasks they used to perform with ease before the attack. Nerve damage can also result in pain and even paralysis.
Emotional Injuries
Dog bites can not only result in physical injuries. They can also result in psychological injuries. For example, a dog bite can result in anxiety, depression, or post-traumatic stress disorder (PTSD). This is especially true for children.
Recovering Compensation After a Dog Bite in South Carolina  
Under South Carolina's dog bite laws, dog owners of dogs that bite people are strictly liable to compensate the victims for their injuries and damages. In South Carolina, a dog owner is liable if their dog bites someone, even if they did not do anything wrong.
After being bitten by someone's dog in South Carolina, the following are some of the damages you can recover;
Medical expenses
Lost income
Pain and suffering
Mental anguish
Loss of quality of life
In South Carolina, you can be compensated for both your physical and psychological injuries after a dog bite.
Contact the Gus Anastopoulo Law Firm
If a dog has bitten and injured you or your loved one in South Carolina, contact our experienced Charleston dog bite injury lawyer at the Gus Anastopoulo Law Firm.
Source:
cdc.gov/mmwr/preview/mmwrhtml/mm5226a1.htm