Did Dangerous or Defective Holiday Decor Land You in the Emergency Room?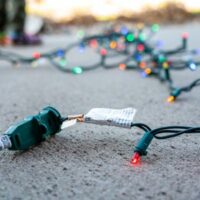 Decorations are one of the highlights of the season, and many people look forward to putting up the tree and dawning their home in lights to wow the neighbors. However, these decorations can also be very dangerous. In fact, over 200,000 people have been seriously injured by holiday lights, Christmas trees, and other holiday decor over the past decade, and as decorations get more extravagant, the numbers continue to increase. It's important to understand the risks associated with different types of holiday decor so that you can enjoy the holiday season in peace and without a looming threat of serious physical harm. Of course, sometimes you can do everything right and take all necessary precautions and still be injured by a defective product. We'll discuss that more below.
The Dangers of Holiday Decor
It might seem obvious in hindsight, that climbing up on your roof, particularly if it's snowy or icy, can have catastrophic effects, but it's so normalized you may not think twice. Many people believe they have great balance and experience, so it will be safe to install holiday lights and other decorations on their roof, however, if the lights are defective they can result in electrocution, which can cause a person to lose control of their body and fall from the roof. Even a fall from the top of a single-story home can result in serious injuries and even death. Not to mention the effects of the electrocution. Artificial trees that come pre-lit can pose some of the same risks. Defects in the design of artificial trees can also make them unstable, causing them to fall on to small children and cause serious injury, particularly if the branches are cheaply constructed out of a sharp or abrasive material. Defectively designed pre-lit Christmas trees may also present a serious fire hazard. Ornaments and Christmas toys may also be designed in a way that makes them dangerous for children, with small parts that are easy to take off, or animatronic components that do not have stop-motion features and may injure a child. Such as a holiday train that does not stop when it senses motion. Many holiday decorations are made rapidly with little testing in an effort to capitalize on the relatively short holiday season. This leaves a lot of room for defects and design choices that can prove dangerous to children and adults alike.
Suing for Defective Decor
If you believe that you or a loved one have been injured and suffered financial damages (such as medical bills) due to a defective decoration or product, it's important to talk to a South Carolina personal injury lawyer to determine whether you have a claim for product liability, which would allow you to recover all damages associated with the injury, in addition to pain and suffering, and occasionally punitive damages.
Contact the Gus Anastopoulo Law Firm
Don't let defective decorations ruin your holiday season. The Gus Anastopoulo Law Firm is ready to help. Contact Charleston personal injury lawyer Gus Anastopoulo today to schedule your consultation.
Resource:
marketwatch.com/story/holiday-decorations-can-be-dangerous-heres-how-to-stay-safe-2016-12-12