How To Tell If I Have Whiplash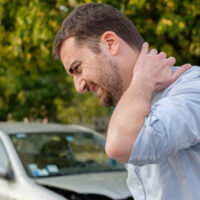 Whiplash may be used in regular conversation, but it can also be a serious injury. Caused by the rapid back-and-forth jerking of the neck, which often occurs during car crashes, whiplash can result in severe pain and countless other symptoms. Whiplash is most often caused by rear-end car accidents, but it can also be caused by physical assaults, sports injuries, and anything else that causes trauma to the neck. If you believe that you may have whiplash due to a car accident, it's important to get a medical assessment so that you can begin proper treatment. You can also contact a South Carolina lawyer to determine what legal options may be available to you.
Symptoms of Whiplash
Whiplash is a soft tissue injury, which can make it difficult to be aware of at first. Soft tissue injuries can take several days until you are able to fully feel them. Many people may feel some mild discomfort after an accident and decide to see if it gets better only to find it getting progressively worse. This is a good indication that you may have whiplash or another soft tissue injury. Whiplash in particular can cause pain and stiffness in the neck, limited range of motion, headaches at the base of the skull, tingling and nerve pain down the arms and into the hands, and other physical issues. Neurologically, whiplash can also cause symptoms such as migraines, blurred vision, an aura effect, irritability, and other problems. Whiplash can even affect your mood and ability to think, causing issues like depression, irritability, and an inability to focus or remember things. As you can imagine, this can seriously impair your ability to work and live your life as usual.
Treatment for Whiplash
In most cases, whiplash can be treated with physical therapy, pain medication, anti-inflammatories, and steroids, or some combination of those. Most people can recover from whiplash with treatment within a number of weeks or months. Of course, there are exceptions. In some cases, whiplash can result in permanent cognitive difficulties, mood disorders, and even chronic pain. It's important to note that even the most basic treatment for whiplash can result in medical and physical therapy bills that total tens of thousands of dollars. This can be especially frustrating if the accident that caused the injury was not your fault and could have been avoided if not for someone else's recklessness or negligence. Luckily, a personal injury lawsuit can give you the ability to recover the full amount of your damages, in addition to compensation for pain and suffering.
Contact Gus Anastopoulo
If you have suffered whiplash or other injuries, the Gus Anastopoulo Law Firm wants to hear from you. Charleston car accident lawyer Gus Anastopoulo will fight to get you the maximum amount of compensation that you are entitled to so that you can get the treatment and support you need to get your life back on track. Contact the Gus Anastopoulo Law Firm today to schedule a consultation.