Is It Legal To Use A Dashcam In South Carolina?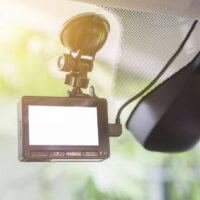 Dashcams, or small video cameras mounted to a car's dashboard, can provide useful information if you are involved in a car crash. A dashcam will record all events leading up to a car accident, and may provide valuable insights as to what caused the accident and who is liable for causing it. This can really expedite the insurance investigation process which is required to determine liability. Additionally, South Carolina only requires the consent of one party to record, so dashcams are legal (although they must be mounted to the dashboard and not to the windshield or anywhere else in the car that could impair the driver's view) and the footage is admissible and can be used in legal proceedings. This also means that the footage can be used against you. Having a dashcam can be a gamble that can pay off big time or cause you major problems. Some insurance companies will offer discounts if you agree to use a dashcam which many people jump at. However, it's important to understand exactly what you are signing up for by mounting a camera in your car so that you can make an informed decision. The information in this article is general, but if you would like specific feedback about your case, you are welcome to contact Gus Anatopoulo to schedule a free consultation.
The Pros and Cons of a Dashcam
If you are not the liable party, there are mostly only pros to having a dashcam. The biggest con is that there is no way to guarantee you will always be the non-liable party. Of course, it could be argued that knowing you have a dashcam provides an incentive to drive as safely as possible, but you are also signing up to have an irrefutable record of any times you don't. This means that even if you were not liable for the crash, you may still suffer a decrease in your available settlement if the dashcam footage catches any factors that could have contributed to the crash, such as driving above the speed limit, swerving, or other factors that may otherwise have gone unnoticed. On the other hand, if the liable party has a dashcam this can be hugely beneficial in establishing that you were not at fault. Additionally, if you have knowledge that the other driver has a dashcam you may be able to have your lawyer subpoena the footage. Of course, on the flip side, this also means that if you have a dashcam the other driver may be able to subpoena the footage even if it is incriminating to you and you do not wish to share it. Once the footage has been subpoenaed, it becomes illegal to destroy or withhold it.
Talk to a Charleston Personal Injury Lawyer
If you have been in a Charleston or greater South Carolina area car accident, it's important to consult with an attorney as soon as possible and before the statute of limitations on personal injury cases expires, barring your claim. Gus Anastopoulo is an experienced Charleston personal injury lawyer and he is ready to fight to get you the full amount of compensation that you are entitled to. Call the Gus Anastopoulo Law Firm today and schedule a free consultation.