What Do I Do If An Uninsured Driver Hits Me?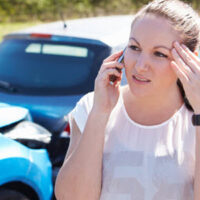 Car accidents can be devastating, both physically and financially. This is true even when both drivers are insured. When the negligent driver lacks insurance coverage, tens or hundreds of thousands of dollars in medical care costs can land squarely in your lap. If you have been in an accident with another driver who did not have insurance, you may be feeling completely overwhelmed and out of options. Luckily, you are not alone. There are legal options available to you even when the other driver does not have insurance coverage. The best thing that you can do after a vehicle accident, whether the driver is insured or not, is to contact an experienced South Carolina personal injury lawyer. However, in the event that the driver does not have insurance, it is even more critical because the case can become quite complicated.
Suing an Uninsured Motorist
The most likely option when you are hit by a driver who lacks insurance is to bring a personal injury lawsuit against them. This will allow you to recover for all damages that you suffered as a result of the accident, including economic damages and compensation for pain and suffering. If you have the identity of the driver who hit you, it is enough to move forward with a personal injury lawsuit. Your lawyer can help you navigate the process and determine how to go about it. One option may be to pursue an uninsured motorist claim with your insurance company. Uninsured motorist coverage is mandatory in South Carolina. Therefore, you may still be able to sue the uninsured driver and recover through your uninsured motorist policy.
Another very important thing that your lawyer can do is thoroughly review the circumstances of the accident to determine whether any other parties could also be held legally and financially accountable for having contributed to causing the accident. For instance, if the negligent driver was on the job at the time of the accident, or was driving a company car, you will likely be able to add their employer as a party to the lawsuit as well, due to the legal doctrine of respondeat superior. This is important because if the uninsured motorist does not have the funds to pay your settlement, additional parties, such as their employer, likely will. Other times when this may be relevant occur when a vehicle malfunction or component defect contributed to causing the accident. In such a case, the vehicle or component manufacturer and/or distributor may also be able to be added as parties to your lawsuit. Sometimes external factors, such as a massive pothole, a broken stoplight, or a stop sign that is blocked by tree branches, may also have contributed to causing your accident. In that case, the city or state may also be joined as a party. Your lawyer can help you determine all potentially liable parties and join them to the lawsuit to ensure that you will be able to get the full amount of damages that you are entitled to.
Contact the Gus Anastopoulo Law Firm
If you have suffered injuries and financial harm as the result of a negligent and uninsured driver, Charleston car accident lawyer Gus Anastopoulo is here to help. He will fight to get you every cent that you are entitled to. Contact the Gus Anastopoulo Law Firm today to schedule a consultation.
Source:
doi.sc.gov/588/Automobile-Insurance