Looking For Signs Of Nursing Home Abuse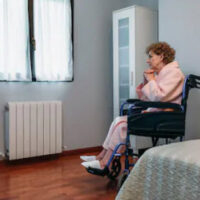 The elderly are some of the most beloved and vulnerable members of our population. As people age, they often develop medical conditions and complications that require near constant care and professional attention. Many people have no choice but to put their elderly loved ones in nursing homes and assisted living facilities in order to ensure they get the care they need. They place a great deal of trust in these facilities to treat their loved ones with care, attention, and compassion, and they often pay a great deal for these services. However, this trust is not always warranted. Our loved ones deserve to be treated with dignity and compassion, however, they are often abused by the same people we trust to care for them.
Signs of Elder Abuse
Signs of elder abuse can often go overlooked. The elderly are often accident prone, lethargic, or medicated, all of which can conceal significant red flags that may otherwise indicate a bigger problem. Bed sores and bad hygiene are both signs of elder neglect. Bed sores develop when an individual spends most of their time in one position, for instance, in a bed or chair. A responsible attendant should move them regularly to prevent these serious sores from developing. If these sores develop and are left unattended, they can become painful, infected, and even result in death. Broken and fractured bones are also an important sign to pay attention to. Although the elderly do tend to have brittle bones more prone to breaks and fractures, it is the responsibility of the nursing home staff to take care in moving them, monitor them, and ensure that they have assistance walking and moving about when needed. Recurrent falls are a red flag that monitoring or assistance may not be adequate, or that the staff is being negligent in their supervision and care of residents. Malnutrition and dehydration can also be signs of neglect, abuse, or depression as a result of these issues. Malnutrition can cause serious health complications. In some cases, food may be withheld from residents as a form of punishment. This is a very serious form of abuse.
Signs of Emotional Abuse
Emotional abuse may be harder to spot, but it can be devastating to elderly residents of nursing homes and assisted care facilities. They may be frightened to speak up or ask for help as the people they are dependent on for their care and medicine are the same ones harming them. If you notice signs of withdrawal, increased depression, isolation, loss of interest in activities, or apparent fearfulness of staff, these may be indicators that something is going on behind the scenes. Emotional abuse may accompany other forms of abuse, and may be used as a means of trying to belittle or control the victim. It's important to pay attention to any indications that your loved one is experiencing changes in their personality and investigate accordingly.
Talk to a Charleston Nursing Home Abuse Lawyer
If you believe your loved one has been harmed as a result of elder abuse in South Carolina, it's important to get help for them as soon as possible. Gus Anastopoulo Law Firm is ready to help fight for your loved one and ensure that their rights and dignity are protected. Call our Charleston nursing home abuse lawyer today to schedule a free consultation.
Resource:
aging.sc.gov/programs-initiatives/long-term-care-ombudsman